M7 Priest in het Belgische leger:
Het Belgische leger heeft in de beginjaren vijftig 119 M7 Priests gekregen van de USA, Het waren zowel M7 als M7B1's. Hoeveel van welk
type er geleverd zijn is nog niet terug gevonden (door ons toch niet). In de jaren zestig werden verschillende Priests in Frankrijk omgebouwd tot M7B2's, getuige hiervan het koperen plaatje dat vooraan op de pantsering aangebracht werd, ABS staat voor Atelier de construction de Bourges.

M7 Priest in the Belgian army:
The Belgian army did receive in the early fifties 119 M7 Priest from the USA, it were both types m7 and M7B1's, How many of witch type we did get is not clear. 10 year later some of them where upgraded to M7B2's again it is not clear how many. Evidence of this upgrade can be found on the front of the vehicle where there is a brass plate installed, ABS stands for Atelier de construction de Bourges.

M7 Priest dans l'armée Belge
Dans les années 50, la Belgique a reçu 119 M7 des USA (M7 et M7B1). Dans les années 60, différents Priests ont été modifiés en M7B2 en France comme en témoigne la plaque en cuivre située à l'avant du char (ABS).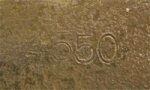 De Piest die nu gerestaureerd wordt draagt het nummer 4550 zowel achteraan (onder het linkse achterlicht) als vooraan (boven de rechtse bout van de transmissie) als op de transmissie. Volgens bronnen betekend dit dat hij geassembleerd werd in januari '45 en origineel het nummer USA 40172553 kreeg. Verder vonden we op de pantsering vooraan nog de nummers 59598A terug met daaronder het nummer 774. Het zou kunnen dat dit de 774ste M7B2 is die gemaakt werd, maar dit is giswerk.
The Priest we are restoring now has the number 4550 stamped at the rear, below the left taillight and above the right bolt of the transmission and as well on the transmission housing on the right side. There is indication that this number is the chassis number and in that case it would be produced in January '45 with the original number USA 40172553. At the front we did discover some other markings: the number 59598A and under this the number 774. Maybe it was the 774th M7B1 produced (of the 826), what the other number means we do not now (yet).
Le Priest en restauration porte le numéro 4550 à l'avant comme à l'arrière, ce qui signifierait d'après certaines sources qu'il aurait été assemblé en janvier 45. Sur le blindage avant, on retrouve le numéro 59598A avec en dessous le numéro 774. On suppose qu'il pourrait être le 774ème exemplaire de M7B1.
De M7's bleven in actieve dienst tot eind jaren zestig, daarna gingen ze over naar de reserve. De eenheden waar ons exemplaar gediend heeft is ons niet bekend, misschien dat we daar in de toekomst nog iets meer over kunnen vernemen .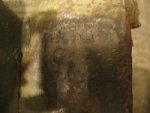 The M7 where in active duty until the end of the sixties, when they went to the reserve. We do not now in what unit our M7 did serve, maybe there will be some info about it in the future.