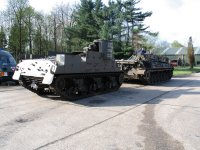 05 April 2005: Het officiële begin van de restauratie, de Priest wordt de werkplaats binnen geduwd en het ontmantelen kan beginnen, na de nodig foto's genomen te hebben natuurlijk.
The official start of the restoration, the Priest has been pushed in the working hall and the dismantling can begin. First we have to take pictures, a lot of pictures.
Le M7 est tracté dans un coin du garage.
06-11 april 05: De motorruimte volledig leegmaken: dekplaten, luchtfilters, uitlaten, radiator, cardan en natuurlijk de motor. Informatie die we van het museum gekregen hebben wijst op een defecte cilinderkoppakking van de linkse bank, wat versterkt wordt door een olielek ter hoogte van de laatste cilinder aan de linkse zijde. Tijdens het heffen van de motor uit de ligplaats stelde we ook vast dat hij niet echt waterdicht is op diezelfde plaats, zorgen voor later en in het slechtste geval hebben we een volledig gereviseerde motor klaarstaan.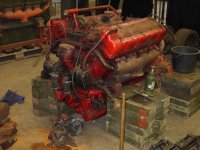 Removing the engine, armoured plates, air filters, exhaust, drive shaft. What we heard of the museum the engine did have a blown head gasket. When we lifted the engine it didn't look so good, lots of oil and water at the left side of the engine. In case we can not repair the engine we have a spare one witch did get a revision in 1973 (almost brand-new isn't it).
Démontage des panneaux d'accès au compartiment moteur, filtres a air, échapement, radiateur, cardan et sortie du moteur de son compartiment. Le moteur ne tourne plus(disposons joint de culasse ou piston). Pour les pièces, nous d'un moteur révisé en 1974 mais resté sur palette depuis.
12-14 april 05: Brandstoftank verwijdert, koffers open geslepen en begonnen met de linkse ketting te breken wat niet meeviel na 30 jaar buiten gestaan te hebben.
Fuel tank removed and started to work on the left track, after 30 years outside it's a hard job.
Démontage des réservoirs d'essence, ouverture des coffres dont les couvercles avaient été soudés, démontage de la chenille de gauche.
18-20 april 05: rechtse ketting gebroken, bogies afgebouwd, baanwielen, armen en veren verwijdert.
Right track removed, all wheels and suspension removed.
Démontage des réservoirs d'essence, ouverture des coffres dont les couvercles avaient été soudés, démontage de la chenille de gauche.
21-22 april 05: Beschermplaten kanon verwijdert en steun kanon los gemaakt.
Armoured plates around the gun removed.
Démontage plaques de blindage du canon et support de canon
25 april 05: Kanon verwijdert.
Gun removed
Enlèvement du canon
26-29 april 05: Baanwielen gedemonteerd en gecontroleerd: lagers zijn nog in goede staat wat niet van de bussen en moeren gezegd kan worden.
Road wheels dismantled and checked: bearings look to be in good order what isn't the case with the bushings and nuts.
Démontage roues de route, roulements en bon état mais axes, plaques de sécurité et écrous fortement endommagés.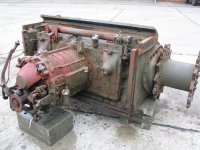 23-27 mei 05: De volledige finaldrive (transmissie, differentieel en eindaandrijving) verwijdert: op twee afgebroken bouten na waren hier geen problemen.
Complete transmission (power train) removed only one problem, two broken bolts.
Démontage de la partie avant comportant la transmission, le différentiel et les commandes finales.
30 mei 05: Bestuurdersstoel, stangenstelsel en pedalen verwijdert.
Drivers seat removed.
Démontage siège chauffeur, pédaliers et commandes(tringleries).
07-17 mei 05: De volledige kelder uitkuisen: alle koffers uitbouwen en al het vuil dat er zit verwijderen.
The basement cleaned out.
La partie "cave" est nettoyée, démontage bac de batteries et coffres.
20 mei-08 juni 05: Beschadigde moeren en bouten in het motorcompartiment herstellen, moeren die niet meer hersteld kunnen worden uitslijpen.
Threads in the engine bay repaired.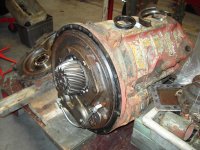 Réparation d'écrous et boulons soudés au châssis.
12-13 juni 05: Versnellingsbak afgebouwd van de finaldrive.
Gearbox removed.
Démontage de la boîte de vitesses et des commandes finales.
14-15 juni 05: Versnellingsbak geopend, want we verwachten hier ook problemen. Blijkt dat de schade nog groter is dan we verwacht hadden: oliekering van de ingaande as is zo lek als een zeef, daarom zat er ook zoveel water in de transmissie, maar dit is geen groot probleem. Erger is dat het lager in het deksel van de ingaande as stuk is (ik had tot nu toe nog nooit vierkante kogels gezien) evenals het conische lager van de 5de versnelling. Het vaste tandwiel van de 5de versnelling is eveneens om zeep evenals de schakelmof met synchronisatie, verder i
s de aandrijving van de toerenteller beschadigd.
Revision of the gearbox (part 1) the intel we did get pointed to a problem with the gears. When we opened the gearbox it was worse than we expected. The oil seal of the input shaft is wrecked but that isn't the biggest problem, the ball bearing is half gone (first time I have seen square balls). The fifth gear is a mess, so is the synchronisation off the fourth an fifth gear.
Ouverture de la boîte de vitesses. Gros dégâts en vue: bourrage d'entrée de boîte plus étanche (présence d'eau dans la boîte et l'huile s'était écoulée dans la "cave" du châssis). Mais plus grave, le roulement se trouvant derrière le couvercle était complètement cassé, les billes sont devenues cubiques, les pièces se promènent dans la boîte et ont endommagé le pignon de cinquième vitesse, l'entraînement du compte-tours n'est plus récupérable.
18 juni 05: Eindaandrijvingen afgebouwd, geen problemen tegengekomen.
Final drive removed, no problems here.
Séparation des commandes finales de la partie avant du char.
19 juni 05: Differentieel geopend, buiten roest overal lijkt het technisch in orde te zijn.
Differential opened some rust but for the rest looks OK.
Ouverture du différentiel, pas de problème sauf la rouille.
augustus 05: Sorry, maar wij hebben ook wel eens vakantie nodig.
Sorry, we also need some time off (hurray for the vacation).
Désolé mais on a aussi besoin de vacances.
12 september 05: De scharnierpennen van de wegklapbare pantserplaten waren afgebroken, dus de resten hebben we nu verwijdert.
Folding armoured plates removed .
Démontage des axes de charnières des plaques de blindage gauche et droite du châssis.
13 september 05: Begonnen met de verwijderde moeren in het motorcompartiment terug in te lassen.
Repairing the nuts and bolts off the engine bay.
élimination des écrous des plaques supérieures du compartiment moteur et montage de nouveaux écrous par soudure.
21 september 05: Begonnen met de baanwielen te reviseren.
Started with the revision off the suspension wheels.
Révision de la première roue de route.
26-30 september 05: Versnellingsbak ontroesten, differentieel ontroesten, remmen demonteren, reinigen en terug plaatsen. Vincent is begonnen met de steunwielen te reviseren.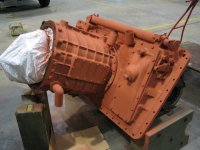 Cleaning the gearbox, differential, removing cleaning and installing steering brakes. Vincent has started to work on the return rollers.
Dérouillage boîte de vitesses et différentiel, démontage des freins, nettoyage et remontage. Révision des roues guides de chenille.
03-07 oktober 05: Versnellingsbak terug op het differentieel gemonteerd en in grondverf gespoten, verder baanwielen gereviseerd.
Installed the gearbox back on the differential.
Remontage boîte de vitesses et différentiel sur le bloc différentiel et mise en peinture anti-rouille.
10-14 oktober 05: Op zoek naar wisselstukken om de versnellingsbak te kunnen herstellen, dankzij de wrakken die zich op het groot schietveld bevinden kunnen we bijna alle stukken recupereren, enkel de aandrijving voor de toerenteller missen we nog. Blijkbaar werd dit systeem enkel op de Priest gebruikt want geen enkele transmissie heeft dit systeem.
Parts hunting at the range. We did find a gearbox where we can take the parts off, only the tachometer adapter we couldn't find, all the Sherman's we did find did use an other system.
Recherche de pièces dans le grand champ de tir afin de réparer la boîte de vitesses. Des pièces sont trouvées sauf l'entraînement de compte-tours.
17-21 oktober 05: Renovatie van de versnellingsbak en verder gewerkt aan de baanwielen.
Restoring the gearbox (part 2) installing the parts we found.
Remontage de la boîte de vitesses.
24-25-27 oktober 05: Nogmaals op jacht geweest naar wisselstukken, de buit: 2 benzinetanks, een onderplaat voor de motor, een ketting en verschillende volledige bogies.
Second time parts hunting. This time we did find some fuel tanks, tracks and some parts of the suspension.
Nouvelle visite du champ de tir pour trouver des réservoirs d'essence, une plaque de visite sous le moteur, un morceau de chenille et des pièces de suspension.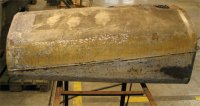 02-03 november 05: Benzinetanks gereinigd en ontroest.
Fuel tanks cleaned.
Nettoyage et dérouillage des réservoirs récupérés dans le champ de tir.
07-10 november 05: Benzinetanks en het stangenstelsel in grondverf gespoten. de onderplaat op maat gemaakt en hersteld.
Fuel tanks and linkage rods painted .
Mise en peinture des réservoirs et diverses pièces, découpage d'une plaque de visite moteur également récupérée dans le champ de tir.
16-18 november 05: Een plaat gemaakt om het gat in het tussenschot te dichten.
Made a plate to close the gap in the bulkhead.
Rebouchage d'un trou (découpe au chalumeau!!!) de la plaque de séparation entre le compartiment moteur et le compartiment équipage.
21-25 november 05: We hadden deze week de beschikking over een halfautomaat (lastoestel), dus we hebben er van moeten profiteren, plaat inlassen, laatste moeren van het achterdek en scheuren gedicht.
Welding week.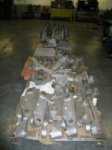 Mise à notre disposition d'un appareil de soudure semi-automatique, les travaux de soudure sont donc effectués.
5-9 december 05: Onderdelen beginnen klaarmaken om volgende week een eerste lot onderdelen te kunnen gaan zandstralen.
Preparing some parts for sandblasting.
Préparation de pièces afin de les sabler la semaine prochaine.
12-16 december 05: Onderdelen (onderstel, neus) zandstralen en terug in de grondverf spuiten.
Sandblasting the first batch of parts, and painting them.
Sablage de pièces et mise en peinture primaire.
19-22 december 05: De transmissie terug samenbouwen.
Assembling of the transmission.
Assemblage de la transmission.