Installation of the bogies went better than expected, the bracket of the idler wheel is already on its place to. Just two of the wheels are missing (we are still waiting for some parts). The rest of the week we will try to put the fuel tanks back on there place.
18 - 20 jul: de brandstoftanks plaatsen zal voor na het verlof zijn, te veel werk met andere zaken.
Putting back the fuel tanks will be for after the vacation, to much other work for the moment.
21 jul - 20 aug :Vakantie, even de batterijen terug opladen.
Vacation.
20 aug - 28 sep: Terug vol goede moed begonnen. De brandstoftank aanpassen en terug in hun ligplaats plaatsen. De elektrische installatie van het motorcompartiment in orde gemaakt buizen gezocht en geplooid, en als kers op de taart de motor terug geplaatst (voorlopig toch).
Back to our project: adapting the fuel tanks and placing them back. All the electrical installation for the engine compartment put back together ( needed to make some tubes for it), and yesterday we put the engine back in (for a short moment).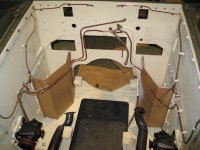 1 - 5 okt: Een van de brandstoftanks lekt (verd......!!!). Eigen schuld, bleek dat er een aflaatstop los staat.
One of the fuel tanks leaks (da☻#grrr!!!). Its our own fault, a drain plug was loose.
8 - 9 okt: We hadden nog verschillende onderdelen liggen die een laagje verf ontbraken en vermits we nu even tijd en een beetje verf hadden... De rest van de week zal er niet veel meer gebeuren, te veel ander werk.
We had some parts witch weren't painted yet, we had some time and a little paint so that's been corrected now. The rest of the week we have to much work so there will be no progress.
15 - 19 okt: Een van de dekplaten ( de voorste) moest nog aangepast worden, gemakkelijker gezegd dan gedaan, en dus lang uitgesteld.
One of the plates covering the engine needs to be corrected, easy said. It was a tough job but it's done.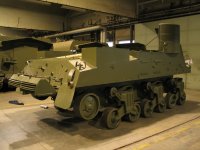 22 - 26 okt: Wat kleine werkjes begonnen, aanpassen van de steun voor de stuurhefbomen, stangenstelsel koppeling en gasbevel in orde gezet. Donderdag zijn we begonnen aan de spanwielen, blijkt dat er een lager en een dichting vervangen zal moeten worden.
This week we started with some small jobs, adapting the support of the sticks, checking the linkage of the clutch and throttle. We started Thursday working on the idler wheels, after close inspection we found a faulty bearing and one gasket that needs to be replaced.
29 - 31 okt: Lagers en dichtingen gevonden, nu alles monteren en plaatsen.
Found the bearing and gasket, placing the wheels.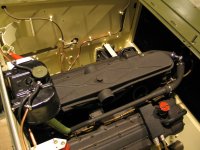 5 - 14 nov: De motor terug geplaatst en vastgelegd, uitlaat gemonteerd, radiator geplaatst, waterleidingen en elektrische leidingen aangesloten. Normaal gezien ligt de motor nu definitief op zijn plaats, binnenkort gaan we nog eens teststarten en een fijnafstelling uitvoeren. Volgende week gaan we weer onderdelen zandstralen en terug in de grondverf spuiten.
The engine is back on its place, exhaust installed, radiator installed, water tubes an electrical connections installed. Normally the engine will stay in now, we will test the engine soon ( need to fine-tune the ignition). Next week we go sandblasting again.
19 - 23 nov: Weer een lading onderdelen gestraald en in de grondverf gespoten.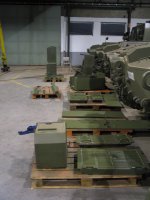 A truckload of pieces sandblasted and painted in primer.
26 - 30 nov: De onderdelen in hun uiteindelijke kleur gespoten (kaki en ivoor), de ventilatoren terug samengebouwd en op hun plaats gemonteerd. De steun van het kanon staat ook weer terug op zijn plaats.
The pieces painted in their colour (kaki and ivory), the fans put together and installed them in the Priest. The mounting of the canon has been put back in place.
03 - 14 dec: We zijn begonnen aan de reconstructie van de vloer, de koffers onder de vloer staan ook al op hun plaats.
We started with the reconstruction of the floor, the boxes under the floor are in place.
17 - 21 dec: De ontbrekende onderdelen van de laatste twee baanwielen zijn aangekomen, dus hebben we die maar direct gemonteerd. De basisplaat met de sticks en het ontkoppelingspedaal zijn ook reeds gemonteerd en aangesloten op hun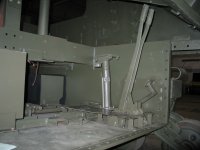 plaats. Dit was het voor dit jaar, volgende week genieten we van een beetje vakantie, met een beetje geluk hopen we volgend jaar het project te kunnen afsluiten. Een vrolijk kerstfeest en een gelukkig Nieuwjaar.
The missing parts from the last two road wheels are here, so we put them together and put them in place. The base plate for the sticks and clutch pedal are in place and connected. That will be it for this year, next week we deserved some vacation, We hope to get the project finished next year. A merry Christmas and a happy New Year.