02-20 januari 06: Alle onderdelen die we gezandstraald hadden zijn nu kaki gespoten.
All the parts witch we sandblasted are painted in their final colour.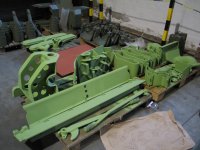 Mise en couleur kaki de différentes pièces.
22 januari -03 februari: 4 bogies terug samengesteld, voor de twee andere ontbreken we nog enkele onderdelen.
Reassembly of the first 4 bogies, for the other two we are still missing some parts.
Assemblage de 4 bogies de suspension, encore quelques pièces manquantes pour les 2 restants.
06 februari - 03 maart: Allerlei kleine werkjes uitgevoerd (schilderen, schuren, kuisen enz), het lijkt traag maar dit zijn dingetjes waar veel tijd in kruipt.
A lot of small jobs done this month (painting, cleaning). It takes a lot of time to work on those small jobs.
Petit travaux (peinture, ponçage, nettoyage) qui prennent vite beaucoup de temps.
06 - 24 maart: Tussen de oefeningen door zijn er nog wat onderdelen gezandstraald en gespoten. We hebben intussen kunnen vaststellen dat er toch nog wat problemen met de eindaandrijvingen zijn.
Between some exercises in we went sandblasting again. We have noticed that there are some small problems with the final drive.
Sablage et mise en peinture, résolution de petit problèmes sur les commandes finales de la transmission.
27 maart - 07 april: De problemen met de eindaandrijvingen zijn opgelost, alles is hersteld en in grondverf gespoten. We hebben intussen enkele onderdelen voor de wielen gevonden zo geraken die ook hersteld. De restoratie is deze week zijn tweede jaar ingegaan.
The problems with de final drives are solved and they are painted, we have found some parts so we repaired some of the suspension wheels. The restoration has begun its second year this week.
Transmission repeinte, récupération de pièces pour les roues de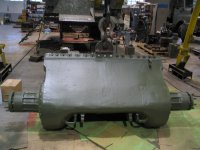 route. On entre dans la deuxième année de restauration.
10 - 21 april: De transmissie is eindelijk klaar, op een laatste laagje verf na, en nu maar hopen dat alle dichtingen ook echt dicht zijn.
The work on the transmission is finally done, only the final layer of paint has to be put on.
24 - 28 april: Het laatste laagje verf ligt er ook op, de transmissie is al gevuld met olie en ze voorlopig lekt niet (hoera).
The final layer off paint has been applied, oil is in the transmission and we don't have any leaks(yet).
Remplissage de la transmission et pas encore de fuite détectée.
02 mei - 05 mei: Terug aan de romp gewerkt, we hebben deflectors gewisseld met onze Nederlandse collega's dus hadden we wat aanpassingswerken te doen. Volgende week gaan we weer enkele stukken stralen.
More work at the hull, we did trade the deflectors with our Dutch colleagues, so we needed to modify the rear. Next week we are going to sandblast some more parts.
Retour aux travaux sur le châssis, nous avons échangé les déflecteurs avec ceux de nos collègues Hollandais. Semaine prochaine : sablage de pièces.
08 - 12 mei: Zoals reeds verteld, onderdelen gestraald.
As mentioned we went sandblasting this week.
15 - 19 mei: de gestraalde stukken in grondverf gezet. De volgende weken wordt de restauratie op een laag pitje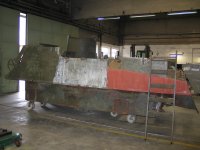 gezet. Te veel werk met onze voertuigen, voorbereidingen voor oefeningen enzovoort.
Al the sandblasted parts painted. Sadly we have so match work we have to do that first. The restoration will be minimal next weeks.
07 Juni: Op bezoek geweest bij onze Nederlandse collega's. Het is een zeer geslaagde dag geworden.
We had a meeting with our Dutch colleagues.
12 - 16 juni: Raar maar waar, onze Priest is een wielvoertuig geworden. Het is gemakkelijker om het zo te verplaatsen.
Strange but true, our Priest is on wheels. It's easier to move around now.
19 - 23 juni: Deze week hebben we een deel van de stukken hun definitieve kleur gegeven, kaki dus.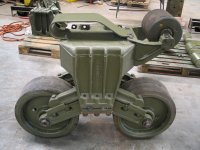 We have painted some off the parts in the final colour, kaki that is.
03 - 07 juli: Terug aan de bogies gewerkt, we hebben de ontbrekende stukken intussen allemaal gevonden. Intussen is de eerste bogie volledig klaar.
We did find all the missing part off the bogies, so we are putting all the parts together and I have to say it looks great.
10 juli - 15 sept: Door allerlei omstandigheden: oefeningen, ziekte, geboorte, verlof en verhuis liggen de werken de komende maanden stil.
Due to other tasks, vacation, illness and so on, we can't work on the Priest until the late half off September.
18 - 29 sept: Eindelijk terug aan het werk, voorlopig ben ik echter alleen of zijn we met twee, dus zal het werk niet echt opschieten. Intussen zijn er al wel vijf van de zes bogies helemaal klaar. Voor de laatste twee wielen moeten we nog eerst de hulp inroepen van een draaibank (schroefdraad zwaar beschadigd). De romp is klaar om te zandstralen, maar door gebrek aan personeel kunnen we er niet aan beginnen.
Started back on the bogies, five off them are ready now. For the sixth one we need the help off a specialist, the treads on the hub needs to be repaired. The hull is almost ready to be sandblasted but I'm alone for the moment so it has to wait.
02 Okt: We beginnen aan de motor, na overleg hebben we beslist dat de gereviseerde motor in de Priest geplaatst zal worden, gewoon een kwestie van het minste werk (denken we). Ondanks dat het een gereviseerde motor is gaan we hem toch eens opendoen om later niet voor verassingen te komen staan, hij heeft ten slotte 30 jaar opgeslagen gestaan onder niet echt ideale omstandigheden
Started with the work on the engine. We decided that the rebuild engine will be placed in the Priest, its a case off the least work we think. That engine has been rebuilt 30 years ago so we will open it and take a closer look at all the vital parts so we don't get surprises later on.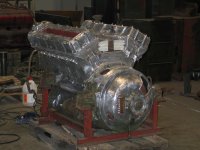 02 - 20 okt: De motor is intussen uitgekleed en gereinigd, de grote onderdelen zijn nagezien. Nu nog alle onderdelen die er rond hangen: carburator, magneto's, uitlaat en stangenstelsels reinigen en een laagje verf voor de ganse motor.
Cleaning and striping the engine. The most is done, only the carburettor, magneto's and the exhaust needs to be checked.
20 - 27 okt: De motor heeft intussen zijn kleurtje gekregen, op de foto ziet het er grijs uit, maar het is wel degelijk zwart.
The engine has its final colour. I know, on the picture it looks grey, but it's really black.
30 okt - 24 nov: Heel de tijd (de tijd die we over hadden tenminste) aan de motor verder gewerkt. Intussen is hij bijna klaar, de magneto's nog afstellen en dan hopen we een van volgende weken hem te kunnen laten testdraaien.
The engine is almost done, only the magneto's have to be connected. We hope that we can take it for a test run next week.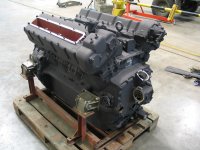 27 nov - 1 dec: De magneto's aansluiten en een teststand bouwen heeft langer geduurd dan gedacht dus het testdraaien zal voor volgende week zijn.
The connection of the magneto's and building a test stand takes longer than expected, so the test run will be next week.
4 dec - 8 dec: Een tegenslag, de waterpomp lekt als een beek, dus die moet vervangen worden. De pomp van de andere motor geeft ons ook al geen vertrouwen, ze heeft redelijk wat speling.
No test run this week, the water pump leaks so we need to replace it. The spare pump gives us problems already so we are not happy at all.
11 - 13 dec: Tweede poging valt ook in het water, zowel figuurlijk als letterlijk. Een van de pijpen bovenop de motor lekt op twee plaatsen dus die moet vervangen worden.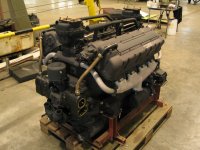 Second attempt also failed, a leak off one pipe set us back a day or two.
14 dec: Na alle problemen denken we nu klaar te zijn om de grote Ford in gang te zwengelen. Na 30 jaar inactiviteit en drie maanden werk laat de Ford zijn machtige stem weer klinken en ik moet zeggen het klinkt geweldig.
This is the day: after 30 years inactivity and 3 months hard work, the big Ford Lives again and it sounds great.